On Thursday, Aug.16 from 6 to 8 p.m., receptions hosted by three Winchester businesses will feature artists Christa Bennett, Dan Brenton, Denise Konicek, Betty Stone, and Kiyomi Yatsuhashi. It's a great opportunity to meet the artists, admire their creations, and discover more about how and why they create their work.
---
Appearing at Bespoke of Winchester (25 Thompson St.) is Dan Brenton.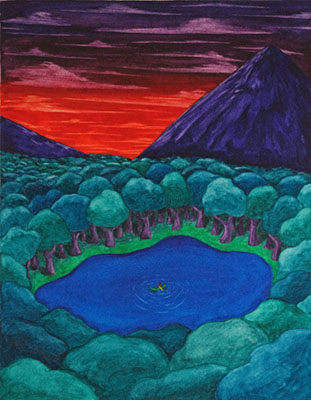 Watercolorist and printmaker Dan Brenton was born and raised in Stoneham, Massachusetts and studied art at Salem State University. A few years after Dan graduated he decided to ride his bicycle across the country and then down the West coast.  The trip filled his head with an overwhelming amount of inspiration that has fueled his recent body of work. Dan hopes to spend the rest of his life seeing new places and processing his experiences through art.
---
Appearing at Winchester Realty (4 Mt. Vernon St.) are Betty Stone and Christa Bennett.
Photographer Betty Stone has  been working on diptychs in color and light. Shown below is one of the five featured this year in her Art in August exhibit at Winchester Realty. She is also exhibiting some photos from Zambia as well as photos from other places, both near and far (photo of Betty with Zambian kids is by Bonnie Newman).
Christa Bennett says of her work, "I make functional pottery and like doing it. I think of myself as an artisan and not an artist, and I have done it for a very long time. It is fun playing with mud!" After the reception her work will remain on display at Pondview Florist. 
---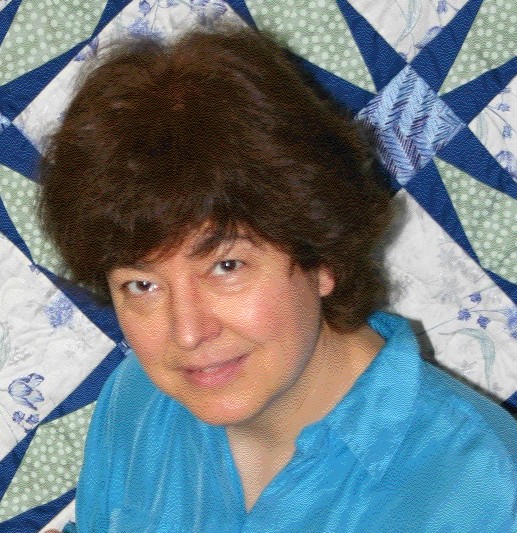 Denise (Dee) Konicek combines her training in art and her love of sewing to create quilts and other fiber art. From 2002 to 2014, her traditional quilts were juried into several national quilt shows. In 2015 she became a juried member of Cambridge Artist Association (CAA). "Red Drift" was one of 56 pieces selected from over 1,000 entries (paintings, sculpture, etc) for CAA's 2016 national competition art show.
Denise studied with Beatriz Grayson, former Winchester resident and internationally known art quilter, starting in 2009. Beatriz retired from teaching in 2017 and, as a mentor, has passed on her students and teaching methods to Denise. Denise also started her own tile business in 2005. She has 7 Angie's List tile installation awards.
Kiyomi Yatsuhashi grew up in Winchester and graduated from Winchester High School, then studied Art History at Tufts and Studio Arts at the MFA's Museum School (SFMA), focusing on printmaking and mixed media. Her interest in textiles grew after working for a custom flag and banner company, Design Flag, after college.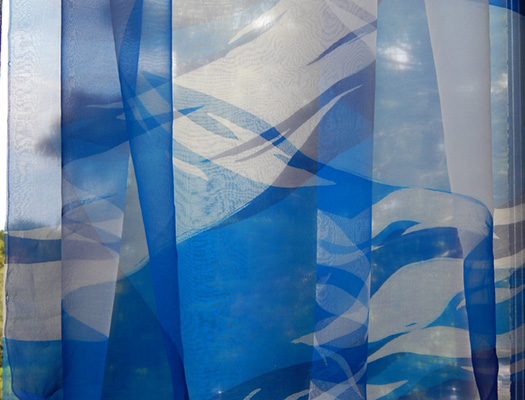 In 1999 she went to Japan to study traditional Japanese textile dyeing at Kyoto City University of Art., and she has been creating textile art using Japanese techniques such as aizome (indigo dyeing), rozome (wax-resist dyeing) and katazome (paste-resist dyeing) for nearly twenty years. She says, "While honoring tradition, I also explore making new expressions from both my Japanese and American creative processes. With my textiles, I like to create spaces where one can relax and reflect on life and the beauty of nature." Kiyomi has also been involved in international exchange and education through the arts in sister cities Boston and Kyoto.
Pictured is one of Kiyomi's rozome silk organza pieces from her "Into the Blue" series.