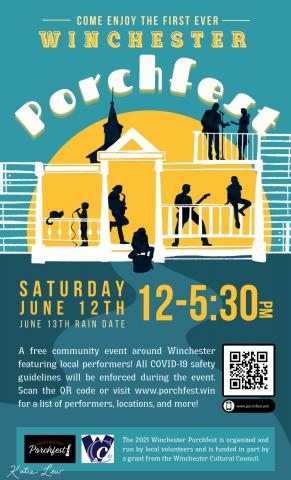 Winchester's Cultural Blossoming: Money Available—Seeking Ideas
The future looks bright for the arts and culture in Winchester. But what will that future hold? Come learn how to be part of it—get a grant next year to support your own project—and share your ideas for how we could make Winchester a more culturally vibrant community.
The Winchester Cultural Council is holding a community meeting on Wednesday, September 18 at 7 p.m. in the large meeting room at the town library that will include a grant-writing workshop and a forum for community comments about how best to support the arts and culture in the future. All are welcome.
Get a Grant
Every year, Massachusetts distributes money to the 329 local cultural councils throughout the state, to be given away as grants that support local cultural activities. The deadline for applications is October 15 of each year. This year, thanks to strong support from our local legislators Michael Day, Jason Lewis, and Pat Jehlen, as well as from Governor Charlie Baker, grant funding has been increased.
The Winchester Cultural Council reviews the grant applications after the deadline and decides by the end of the year what and how much to fund. Details are elsewhere on this web site. At Wednesday's meeting, WCC members will give tips for writing a good proposal and will answer questions about grant requirements and local priorities.
Winchester's Cultural Future
This year there have been some exciting new cultural developments in Winchester.
For the first time, the town of Winchester approved a small but important amount in the town budget for the Cultural Council. How should the WCC best use that funding?
On August 27, the Winchester Cultural District was approved. The district provides a framework for possible future programing and also, through its governing partnership, connects the cultural, business, and government organizations in town.
How should we take advantage of this good fortune? Should start a new program, improve infrastructure, or just do more of what we're already doing? Do neighboring communities have ideas we could adopt?
Past suggestions have included.
Creating a Winchester Porchfest
Better information about cultural activities in town: signs, notices, online resources
More opportunities in town for visual artists to display their work
More collaborations between the artist community and local businesses (like Art in August)
A records preservation project (see Mass Memories and the Legacy Winchester project)
Activities to encourage greater involvement by all members of the community:

Youth and students
Seniors
Members of all cultural groups, both new to town and long-time residents

Long-term planning for culture.
"Culture" includes visual arts, crafts, music, dance, theater, photography and video, books and literature, history, and far more. Are there areas that need more support?
Come to the meeting, share your ideas, and learn how to contribute to our bright cultural future!