Downtown Winchester will be sparking on the evening of Thursday, August 23, when there will be meet-the-artist receptions at four separate businesses. Come to ClarkCare to see Muriel Crum; to Edward Jones to meet ceramic artist Petra Riemans-Rinsma; to Pairings to meet photographer Robert Hesse, jewelry maker Wendy Jo New, and fused glass artist Debbie Taylor-Smith; and to The Book and Board to speak with painter Lynn Ricci and photographer Dafna Leonard.
---
Appearing at ClarkCare (533 Main St.) is Muriel (Mim) Crum, who works in mixed media, which this year includes paintings that feature "old" fashions. She writes, "Fashions from the 1920's and up were so elegant. The ensembles (hats, gloves, shoes, etc.) are in the past but not forgotten. I had such fun  painting them."
---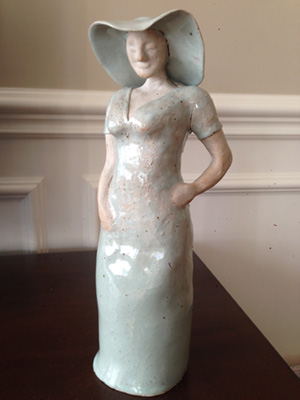 Just next door at Edward Jones (535 Main St.) is Petra Riemans-Rinsma. Petra is a ceramic artist with a focus on hand building female figures and coiling. She also does some slab building and sometimes works on the wheel. Ceramics always played a role in her life, even as she pursued a career as a financial analyst, and she has taken ceramic classes with the Dutch artist Femke Kempkes and others, with a focus on the human body. She has also completed the technical education program at Mudflat Studio's in Somerville, where she is still taking classes.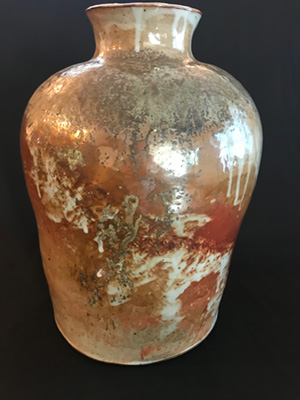 Petra says, "Working with clay is very satisfying and soothing. It forces you to focus on the clay itself. It is an amazing process to see and experience where the clay will bring you. With this approach, each ceramic piece is unique with its own personality.
"I love to do coiling and sometimes I combine coiling with slab building. My female figures are an example of this. I really got into coiling last year when I started taking classes with Susan Bernstein at Mudflat, resulting in larger vases and bottles. This technique is one of the oldest ways to create pottery and it has been used from Africa to Greece and from China to New Mexico. Clay shapes such as bowls are built up by using coils of pliable clay, putting one on top of another and pressing them together. Using this technique, it is possible to build thicker or taller walled vessels."
---
Pairings (600 Main St.) will feature Robert Hesse, Wendy Jo New, and Debbie Taylor-Smith, as well as a wine tasting with a variety of gourmet snacks.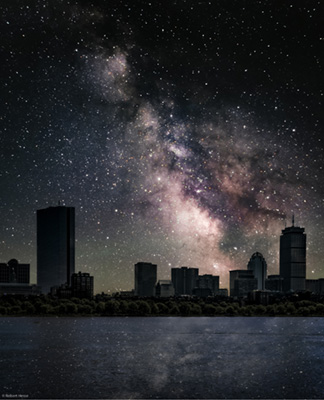 Bob Hesse will be showing some new work including nightscapes, IR, work from the Boston Waterworks, and a new "De-Lighted" series in which he "removes" light and light pollution from landmarks to illustrate the beauty we have lost.
Wendy Jo New produces fine contemporary jewelry and other metal designs, primarily in the precious metals of silver, argentium, gold, palladium, and/or platinum.  These are often further defined with the addition of texturing, gemstones and other unique lapidary, or resin inlay. She finds designing and fabricating engagement and wedding bands and other jewelry, often with people's own stones, particularly meaningful. She sells her work at galleries and shows and also teaches courses and provides private instruction in jewelry-making and metal fabrication.
Debbie Taylor-Smith has been experimenting with various mediums for more than 40 years—watercolor, pen and ink, mono-printing, mosaic, and collage were among the early favorites. Today she prefers to focus on the "Functional Arts" of fused glass flamework beadmaking for her jewelry and serving pieces. Her silk scarves use the Japanese techniques of Arashi Shibori and Suminagashi while her unique glass beads are coordinated with her scarves to give her total control over the overall color and format.
---
Come to The Book and Board (626 Main St.) to meet Lynn Ricci and Dafna Leonard.
Lynn Ricci is best known for capturing the seasonal beauty of her New England home, focusing on realism and impressionistic oil paintings of Massachusetts's coastal towns and islands, the historical city of Boston, and the forests and farms further out in the country. Lynn grew up in Winchester and has remained local. She lives in Burlington with her two sons and springer spaniel, Fenway, and paints every chance she gets in her home studio. Some of her artwork can be purchased at the Wright Locke Farm Gift Shop in Winchester.